888VoIP Review: The Sennheiser MB Pro 1 UC
Grant Maye
Successful VoIP implementation is determined by many different things, particularly the end user experience. Smart businesses know that choosing the proper VoIP accessories to accompany a phone system is critical and this includes choosing a headset. Sennheiser, a trendsetter in the audio industry since 1945, designs headset solutions that immerse users into a conversation and the Sennheiser MB Pro 1 UC is no exception.
What We Loved: Long-Lasting Comfort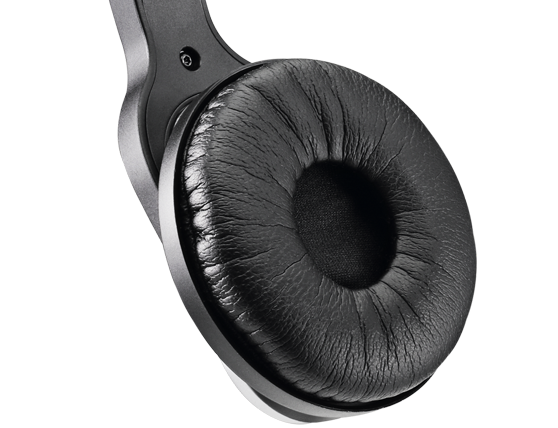 Are your end users wearing their headsets for extended periods of time? For those that wear their headsets consistently, comfort is going to be one of the biggest considerations when choosing a model. Comfort is noticed from the moment the headset is put on. It is extremely lightweight with a headband that fits snugly, but not uncomfortably. Headache prone from wearing headband headsets? You will be relieved to know that this was never an issue with the MB Pro 1 UC.  In addition, the large leatherette ear pad is extremely soft and does not exert extra pressure on the ear.
What We Loved: 15 Hours of Talk Time
This headset is quite wearable, making it is easy to forget to take it off and give it a charge; however, that is more than alright to do since the MB Pro 1 UC has up to 15 hours of talk time. There is no reason to have to charge the headset during the workday.  If you do run into the case where you need to charge the MB Pro 1 UC, you can get a 50% charge in only 40 minutes, tacking on approximately 7.5 more hours of use.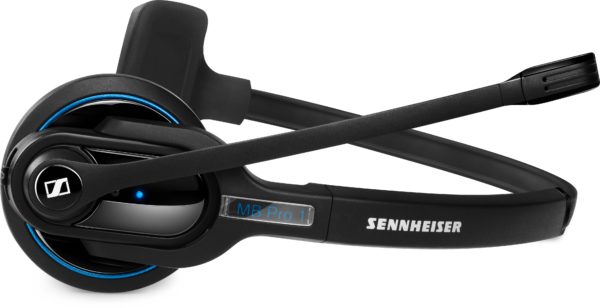 What We Liked: Clear HD Sound
The MB Pro headsets are equipped with Sennheiser's legendary HD sound, which was something that instantly piqued our interest in Sennheiser. With the Sennheiser MB Pro 1 UC, you can fully and clearly hear the speaker on the other end of the line. The MB Pro series also features an ultra noise-canceling microphone for background noise reduction. In an office with a lot of background noise, this helps the receiver hear only you, providing a crisper and more natural sounding call.
What We Liked: Bluetooth® Equals Mobility
Many users like to walk around when taking their calls, making a wireless headset a necessity – not an option. The MB Pro 1 UC is Bluetooth-enabled and allows for this mobility. The call quality is still superb even when walking through the office. Sound quality is not compromised in the slightest.
An Added Bonus: A Sleek, Clean, and Compact Charging Stand
One of the highlights of the MB Pro 1 UC is the charging stand. The modern design is aesthetically appealing, and its small size will help preserve a clean, clutter-free workspace. No more needing to lie your headset on your desk, taking up desktop real estate. Charging the headset is extremely easy to do with this stand, too. Simply place the headset on the stand and magnetic charging will begin. No need to fuss with plugging in any cords.
---
Ready to Learn More?
Are you interested in trying out the MB Pro Series, including the Sennheiser MB Pro 1 UC, so you can offer it to your end users? Contact the specialists at 888VoIP to learn more about this series, as well as other Sennheiser audio solutions.
For more information on this particular model, access the MB Pro 1 UC Fact Sheet.