Why You Need the Latest Version of 3CX: Version 15.5
sstoveld
If you are not familiar with 3CX, it is time you get acquainted.  And if you are a user of this IP phone system for Windows, you must upgrade to version 15.5. 3CX is a software based PBX based on the SIP standard. It will completely replace your proprietary PBX, help you save time & money, and boost your profits. Recently, 3CX released its newest version of the software, which offers fresh features, as well as enhancements to the past 3CX experience. What will be gained from upgrading to this new version? Let 888VoIP walk you through the newest features and improvements:
Zero Admin & Automated Failover
3CX Version 15.5 further eliminates a PBX admin, just like its predecessor, making admin almost non-existent. Coupling that with increased automation, this new version automatically manages security updates, backup & restore, management and failover. The practical dashboard will assist in easy monitoring, while the FQDN will be managed by 3CX. The new Enterprise edition will also include a standby license.
Inbuilt Bulletproof Security
You wanted an increase in PBX security and 3CX V15.5 delivers. You will benefit from automatic generation & management of SSL certs, as well as encryption of voice traffic via SRTP and encryption of traffic to 3CX clients via SBC. This current version of 3CX receives an A+ rating from SSL lab. By upgrading your 3CX, you will also experience:
√ More secure web server configuration
√ Detection & auto-blacklisting of SIP attack tools
√ Provisioning of phones via https
Deployment Anywhere
Version 15.5 will give you full control in deploying your UC system. Choose between Windows or Linux and you can virtualize on an existing server on VMware or Hyper V.  Want to install in the cloud? Version 15.5 makes that possible. Cloud deployment can happen within a matter of minutes just by utilizing PBX Express. Does your office lack a server? You can even install on a MiniPC.
The New 3CX Web Client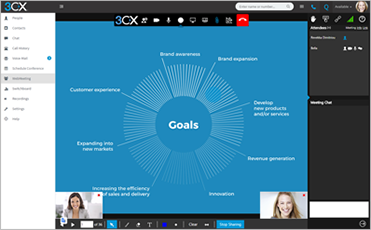 This new version boasts a brand new web client with integrated UC features. It is easy to utilize the free web conferencing feature, which can include up to 100 participants. Plus, there's no need to utilize additional software, administration or licensing for this open standards based video conference. In addition, single stream technology will allow you to use less bandwidth. The new web client also features a Click to Call Chrome extension.
Practical UI & Updated Smartphone Clients
In addition to the user-friendly management console interface, 3CX also allows users the ability to provision clients centrally. This includes updating of smartphone clients. Users of the new version will also experience:
√ A redesigned user interface
√ iOS call kit integration
√ Ability to answer calls from the lock screen
√ A more customizable softphone client for Windows & Mac
√ Added Google Firebase PUSH for the Android client
Customizable Application & Other Integrations
3CX has expanded their integrations by supporting more applications. They have also added a scriptable interface that makes it easy to integrate with any CRM, contact center or outbound call center solution. With V15.5, it is easy to use scripting interface and create outbound call scripts. Also, it is easy to utilize the Click to Call Chrome extension, popular CRMs, and webpages.
---
Want to learn more about 3CX?
Contact the 888VoIP team at 888-864-7786 for more information on 3CX licenses, upgrades, or version 15.5.